Hello my Happy Creative Friends. So here is my planned workshop calendar for 2021. This year I have decided to focus my workshops mostly around Punch Needle Rug Making . I have one date for Rug Making by Hand (Hooky and Proggy ) and one date for Bohemian Braid. I have still all the skills and infrastructure to teach Indigo Dye and Shibori and I can still do this, but you will need to form the group yourself. You will also see below the dates for Rug Makers Days Out for those of you who have already attended the basic workshop and are wanting a full day of studio time as well as being part of our fabulous communal lunch.
If have not already subscribed to the Happy Hookers emailing list you can do this at the bottom of this page for reminders of upcoming creative workshops and events and the invitation to the monthly afternoon tea.
Oh and this year I will have my Open Studio on the the First Sunday of the month, to coincide with the new Makers Market on the Mountain, a great way to spend a Sunday. I hope to see some of you very soon.
Please review our Terms & Conditions before purchase
Indigo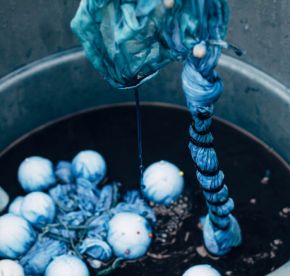 $125. Includes one silk pongee scarf
In this workshop you will learn about one of the most fascinating of natural dyes, Indigo. This stunning blue dye is derived from the leaves of the indigofera tinctora plant. Participants will prepare a silk scarf using some shibori techniques, ( tying, sewing, and folding the cloth) to create a resist. When the scarf is dipped into the large vat, watch the dye change colour from green to blue as it oxidizes in the air.
Rug Making by Hand
$95 per person. Tools: $40 each
Join me in the "War on Waste". Transform unwanted fabric or clothing into functional rugs and mats. In this workshop you will learn two techniques : Proggy and Hooky. You will also learn how to recycle and revive old fabrics and clothing with dye. We begin on a small piece, such as a cushion or mat.
This workshop prepares you for making bigger and better rugs of your own.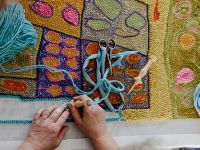 September 29, 2021 9:30 am – 2:30 pm
Cost: $120/$130 - includes backing fabric and 400g rug wool, enough to make one 35 x 35cm chair pad. Tools $40
October 3, 2021 1:30 pm – 3:30 pm